The 2020 Tokyo Olympics are in full swing! Tune into NBC channels to view today's events, or set your DVR/TiVo to record upcoming events. Check out the complete broadcasting schedule here, and an Olympic Channel guide here.
We are continuing to follow Olympian Emma White, a Track Cyclist who will be participating in the Team Pursuit event beginning on Monday, August 2nd at 6am EST and 12:15pm on the USA Network (Channels 181/781). Below you can find some of her interview questions – this time focusing on her coach and teammates.
Kristin Armstrong, Emma White's coach, was a professional road racing bicyclist who participated in time trials. Competing in the Olympics at Athens (2004), Beijing (2008), London (2012), and Rio (2016), she is a four-time Olympian, and a three-time Gold Medalist. She also has won four medals in the World Championships – including two golds, one silver, and one bronze. Before cycling, Armstrong was a junior Olympian who competed in swimming, as well as a former distance runner and triathlete.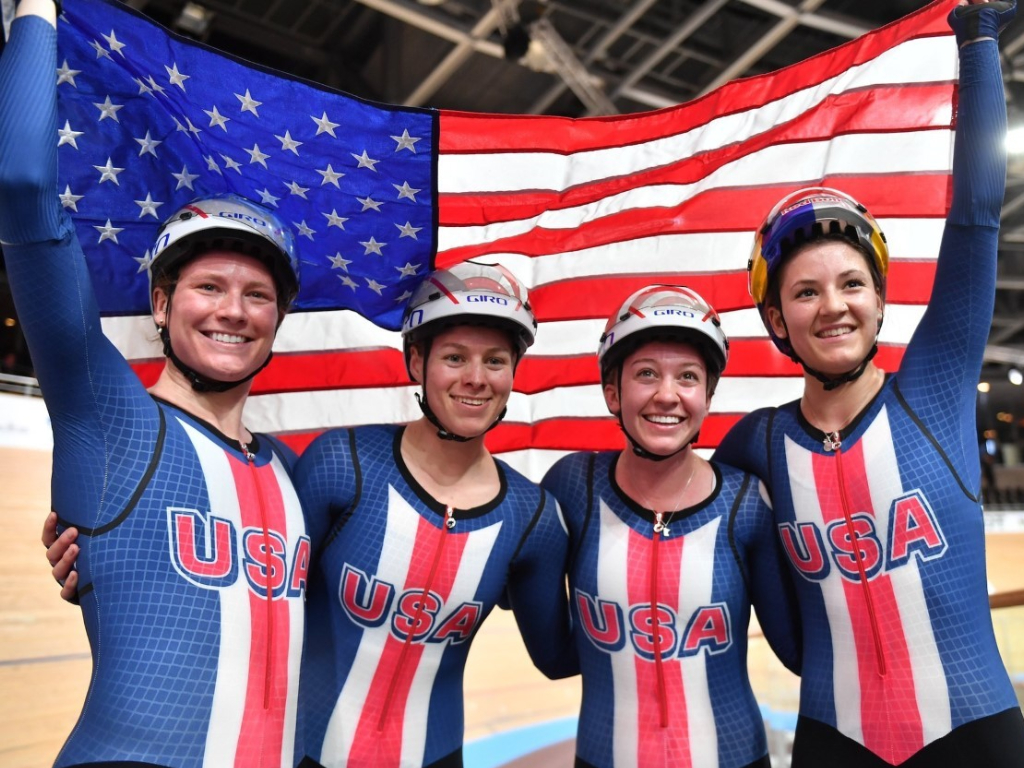 The full list of women who have made the US Olympic Team Pursuit team include:
Chloé Dygert (Brownsburg, ID; CANYON//SRAM Racing)
Megan Jastrab (Apple Valley, CA; Team DSM)
Jennifer Valente (San Diego, CA; Twenty24)
Emma White (Duanesburg, NY; Rally Cycling)
Lily Williams (Tallahassee, FL; Rally Cycling)
Q: Is there a particular person that you feel is your guiding inspiration?
A: Well, first of all, my couch is Kristin Armstrong. She is a three-time Olympian gold medalist on the time trial. I've been working with her since 2014 and she is my absolute rock. She just retired after Rio where she got her 3rd gold medal in 2016. I still talk to her just about every day, she gives me my training, and when things are maybe not going how I wanted them to go she always says exactly what I want to hear. She is a huge inspiration on and off the bike. She's a mom, she's a business owner, a wife, and I just look up to her so much.
Q: At what point did you first realize you could have a real shot in the Olympics?
A: To be honest, I don't think I really wrapped my head around it until after we won the World Championships in Berlin in February 2020, when it was our last track race. I went into it not really knowing what to expect. Our coaches had high expectations, but I had never – I was still so new to it. There were three rounds in total, and after the first and the second rounds we were competing in the Gold Medal Round against Great Britain. I think it was then when I was lining up for that race, I was like "man we are winning the world championships, and if this goes well, the Olympics are only a short 7 months away (at that time)".
Q: Are you competing with a brand-new team in the Olympics, or are these teammates that you have known and worked with before?
A: How it works is when I entered the program in 2018, I was joining the US national team. At that point there was a group of 9 or 10 women. You get selected for world cups and world championships, and the program narrows down based on performances. This past year there were 7 women competing for 5 spots. We all raced in the different combinations, but it's the same group of people I have been training with, with the same coach for the last couple of years. We are actually all living in Colorado Springs together, so we're training with each other all the time.
Q: You continued to compete professionally while attending college. How did you handle the time management portion of doing all that & having to delegate time between your degree and cycling? 
A: Truthfully, when I think back on it, I don't know how I did it because I don't have any free time right now. Ultimately, I was just very fortunate. My professors at Union were so supportive, so encouraging of me, I still hear from them all the time. I was also really fortunate on my cycling side, they both supported each other very well. My cycling team was super – you know if I told them I really had to be home for a test of something, they would understand and vice versa with the school. I think comparing myself to other people in school, I think I just lucked out with my situation.
Q: How has the pandemic impacted your training?
A: Well on the timeline, we had come back from winning the World Championships in Berlin and that's when we first started to hear about coronavirus. It hadn't really affected us at that point. We went home for a week, then came back to Colorado Springs to do our final push to what was supposed to be the Olympics last summer, and everything started to slowly shut down. We were living in the Olympic training center and the facilities were closing down – our velodrome, the gym, our sports science recovery centers – everything was starting to shut down, so everybody was leaving. A couple of teammates and I had chosen to stay here and train together. If I had gone home, and was alone at that point, all of my motivation would have sunk. There were three of us who had stayed here, and we trained our butts off. We worked very hard, really set for absolutely nothing but we needed each other for the motivation for sure. And then later in the summer I took some time off and kind of had a reset. So, it was good for the first part of it, and then in the fall I was able to take a little bit of a break and them come back here in February. So, yeah, I think my teammates really got me through the pandemic. I spent most of my time here in Colorado Springs.
---
Emma White has left to head to Tokyo!
Days until White's Track Cycling: 3
We encourage everyone to tune into the Olympics to root on White as she competes in the Team Pursuit. You can find the Team Pursuit Qualifying Round broadcasted on USA Network (Channels 181/781) starting on Monday, August 2nd at 6am EST, and a replay of this event on USA Network beginning on Monday, August 2nd at 12:15pm EST.
Can't watch live due to early hours? Check out NBC periodically for events rebroadcasted during primetime, or use your DVR to record the event! Don't forget to use WatchTVEverywhere to watch NBC content on all devices, including phone, tablets, and computers. Click here for the user guide on how to log in for free.
This just in: Check out the Official Olympics App! On all TV's that use a TiVo set top box gain free access by simply pressing the silver TiVo button on the top of your remote, and navigating to the "My Apps" section. This app shows Olympics highlights, a schedule of all upcoming Olympics broadcasts, and a live count of the medals won by each country!
Not caught up? Read our previous post on Emma White here.
Check back on Monday, August 2nd, for the next set of interview questions!
View the complete Tokyo 2020 Olympics Track Cycling Competition Schedule here!