The 2020 Tokyo Olympics begin today! Tune into NBC (Channels 103/703) today from 6:55am – 11:00am EST or tonight at 7:00pm – 12:00am EST to watch the Opening Ceremony, or set your DVR/TiVo to record upcoming events. Check out the complete Olympics Broadcasting Schedule here, and an Olympic Channel guide here.
We are continuing to follow Olympian Emma White, a Track Cyclist who will be participating in the Team Pursuit event. Continuing from last week, below you can find some information pertaining to her sport, as well as some of her interview questions – this time focusing on Velodrome team racing.
A velodrome can be described as steep-banked, oval track that often serves as a track racing arena. First created in the 19th century, they were originally built not just for cycling, but also other sports as well. While the premise of a velodrome is consistent, there are many different variations – including differences in length, bank steepness, and whether the track is indoor or outdoor. Generally, a velodrome track will have a length ranging from 150 meters to 500 meters. In particular, velodromes that are at Olympic standards must have a circumference of at least 250 meters.
The Team Pursuit, an endurance track event, consists of two teams that begin the race at opposite sides of the track. Each of the team's four members will take turns in the lead, switching out their positions behind one another every half or full lap. The team will race for a total of 4km (16 laps), with the goal being either to reach and overtake the other team, or complete the distance in the fastest time. The team's time is measured by the third rider's front wheel as it crosses the finish line.
An important component to track races are the unique type of track bicycles used. They do not possess any brake calipers, have a single fixed gear, and do not have the ability to freewheel (coast) without pedaling. Without brakes, the cyclist must rely on either pulling away from their team and changing their cadence, or moving higher up on the track's banks in order to slow them to a stop. The latter is the more efficient technique, as even with normal road bicycles riding up a hill will considerably lessen someone's speed. Not having the ability to quickly stop may seem dangerous in a fast-paced race. However, on a track where no one has this ability, there will be no sudden slowdowns that could potentially cause problems. It is for this reason that track racing is deemed one of the safer types of racing.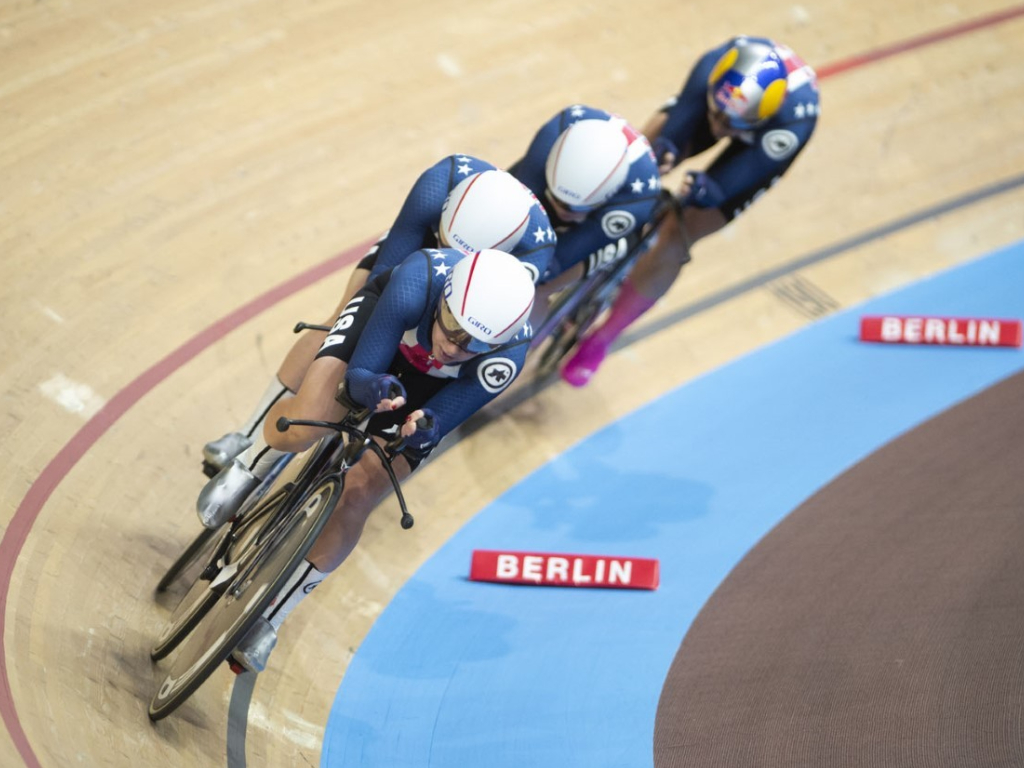 Q: From a high-level perspective, is it strictly you and your team on the velodrome in a time trial, or are there competitive teams on the track at the same time?
A:  It's similar to a team time trial where there are 4 of us who start, and we get up to speed and we're racing against the clock for 16 laps, which is equal to 4 kilometers.
Q: Would that make it similar to a relay race with the handing of batons to one another, where each person has their own leg?
A: It is very similar to that. We're in a pace line, so naturally the person on the front of the paceline is doing the most work. We do an exchange in the bend, and then the front person goes up and into the back, and in the back they're getting a draft. So they're able to recover for about a minute before they get back on the front again. So, we all have about 3 to 4 turns within the race.
Q: Are you training in Colorado Springs? Where are you?
A: Yeah, there's an Olympics training center in Colorado Springs, so I'm currently living there. My older brother, Curtis, is actually an hour and a half away from me right now in Boulder, he's doing some altitude training there.
Q: What is your favorite place that cycling has taken you?
A: New Zealand might take the cake on that one. New Zealand and Australia was one of my favorite trips. We stayed in New Zealand over thanksgiving, we were there for 2 or 3 weeks before a competition, so we had a lot of opportunity to just go training. The roads were just so beautiful there, never ending. It was a very green and warm, and I really loved the town we were in, we were in Cambridge, New Zealand. From there we went to Brisbane, Australia, which was right on the coast. I went and saw the koalas and the kangaroos; it was just so new to me. I had never been and there was just a lot of stuff I had never seen before, which I was really happy to go there. It's one of those places that I probably wouldn't have been if it wasn't for cycling.
Q: Do you have any little-known cycling tips that some people might not know about that you would not mind sharing?
A: Training wise, something that I really don't enjoy but I'm really happy I do just is long endurance rides for 3 or 4 hours. Sometimes they are pretty boring especially if I'm alone, but I think that's where all that secret strength comes from. My race is only 4 minutes, but those 3 to 4 hours is really where I pull that fitness from.
---
Emma White headed to LA on July 17th for her final week of preparations before heading to Tokyo on July 25th.
Days until the Olympics: 0
Days until White's Track Cycling: 10
We encourage everyone to tune into the Olympics to root on White as she competes in the Team Pursuit. You can find the Team Pursuit Qualifying Round broadcasted on USA Network (Channels 181/781) starting on Monday, August 2nd at 6am EST, and a replay of this event on USA Network beginning on Monday, August 2nd at 12:15pm EST. Can't watch live due to early hours? Check out NBC periodically for events rebroadcasted during primetime or set your DVR to record the event!
Not caught up? Read our previous post on Emma White here.
Check back next week for the next set of interview questions!
View the complete Tokyo 2020 Olympics Track Cycling Competition Schedule here.