The 2020 Tokyo Olympics are in full swing – today is the day of Emma White's event! Tune into NBC channels to view today's events, or set your DVR/TiVo to record upcoming events. Check out the complete broadcasting schedule here, and an Olympic Channel guide here.
We are continuing to follow Olympian Emma White, a Track Cyclist who will be participating in the Team Pursuit event. Her next, and final, appearance will be tomorrow, August 3rd on NBC Sports Network (Channels 178/778) beginning at 6am EST. Below you can find some of her interview questions – this time focusing on her past racing experience and cyclocross.
---
Cyclocross is a type of cycling similar to mountain biking and cross-country cycling. The tracks are outdoors, usually made from grass, mud, or sand, with man-made obstacles that racers must maneuver through or around. This type of cycling focuses on endurance and technical handling skills, as the tracks can be both long and full of tight turns and difficult obstacles. Similar to NASCAR races, a cyclocross racer has their own pit crew, where they can clean, repair and oil the bike. The cyclocross season normally spans from October through February, and a race will typically last between 30 minutes to an hour, depending on what age group is participating.
Emma White is a three-time national Junior cyclocross champion, winning in the U23 road race, time trial, and criterium. She has also won a bronze medal in the 2015 U23 National Cyclocross Championships.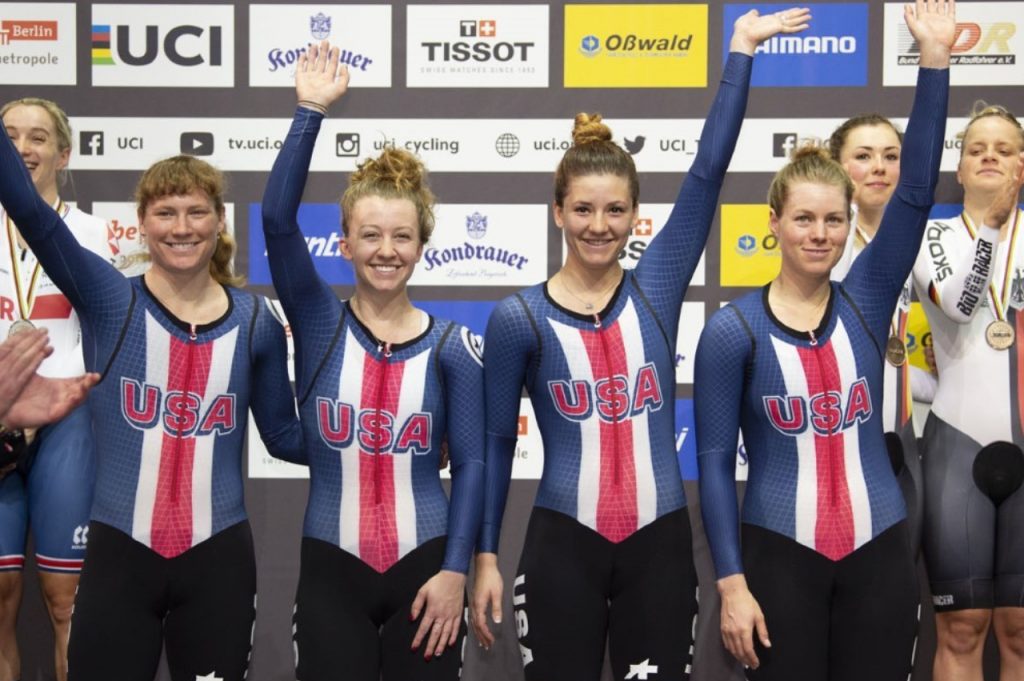 Q: How has the success of your older brother Curtis inspired you?
A: We've been on the same track, really, up until 2018 – we were both doing road cycling and cyclocross, and we actually road on the same teams up until that point. We were both on CBRC, the Capital Bicycle Racing Club, and Hot Tubes Junior Development, which was the junior's men program; I was the only girl on that team. Then came cyclocross and rally cycling for road, which is what I'm still on for road. After that, we kind of split ways – I stuck with track and road, and he stuck with cyclocross. Now we are both on completely opposite schedules. He's actually in Colorado right now, an hour and a half away from me, but I don't know if I'll be able to see him before the Olympics. I'm really, really, proud of what he is doing though. I'm happy it's working out and that he's really paving the way for himself. It's not easy out there and he's so passionate about it, so it's really nice to see that he's doing what he loves.
Q: What really makes you frustrated?
A: When we do little races at home and Curtis, my older brother, beats me. It's okay though, because the frustration makes me faster, it goes to good use. My little brother, Harrison, beats me too sometimes. He's racing crew now at Union so not so much bike racing anymore. My dad is actually the crew coach there at Union as well.
Q: What about your career would surprise people of the area?
A: Starting track pretty late definitely is a little unique. I was mainly a cyclocross and road racer up until 2018. I also always thought that world championships would be the peak of my career. And I truly – although a lot of kids grow up thinking they want to be an Olympian, that was never really me. I never really thought that was a possibility until a couple years ago. This is above and beyond where I ever thought my peak of my career would end up. It's like the cherry on top of my cake.
Q: Does your team always ride the same bike manufacturer, or can you ride whatever you want?
A: So we are sponsored by Felt, and we actually have a special bike where the drivetrain is on the left hand side of the bike, which is faster. It's a pretty unique bike compared to other teams. Not only do they produce track bicycles, but for Cyclocross as well.
Q: What actions or advice did you parents have for you that proved helpful in your career?
A: Well first of all, common road safety is extremely important, and it is on my mind 100% of the time I'm riding. You know, wearing a helmet and being super careful with cars are big components. My parents said to always assume cars don't see you – which is very important because you hear about all sorts of problems. My parents really taught me to be super calm, gracious, and taking advice well, you know? And I think that's really helped me in the long run because I've had a lot of people who have helped me out and I've really needed their help, and I think I owe that to my parents of being so receptive of that.
---
Emma White has competed in the Team Pursuit qualification round! Team USA placed third in this round, coming in at a time of 4:10.118. Click here for the complete qualification results.
Days until White's Track Cycling: 0
Days until White's Final Round of Track Cycling: 1
We encourage everyone to tune into the Olympics to root on White as she continues to compete in the Team Pursuit. You can find her Team Pursuit Qualifying Round rebroadcasted on USA Network (Channels 181/781) beginning today at 12:15pm EST.
Her next, and last, appearance will be tomorrow, August 3rd on NBC Sports Network (Channels 178/778) beginning at 6am EST. This will encompass both Round 1 and the Finals of Team Pursuit – you don't want to miss out!
Can't watch live due to early hours? Check out NBC periodically for events rebroadcasted during primetime, or use your DVR to record the event! Don't forget to use WatchTVEverywhere to watch NBC content on all devices, including phone, tablets, and computers. Click here for the user guide on how to log in for free.
This just in: Check out the Official Olympics App! On all TV's that use a TiVo set top box, gain free access by simply pressing the silver TiVo button on the top of your remote, and navigating to the "Apps" section. This app shows Olympics highlights, a schedule of all upcoming Olympics broadcasts, and a live count of the medals won by each country!
Not caught up? Read our previous post on Emma White here.
Check back tomorrow, August 3rd,  for the last set of interview questions!
View the complete Tokyo 2020 Olympics Track Cycling Competition Schedule here!