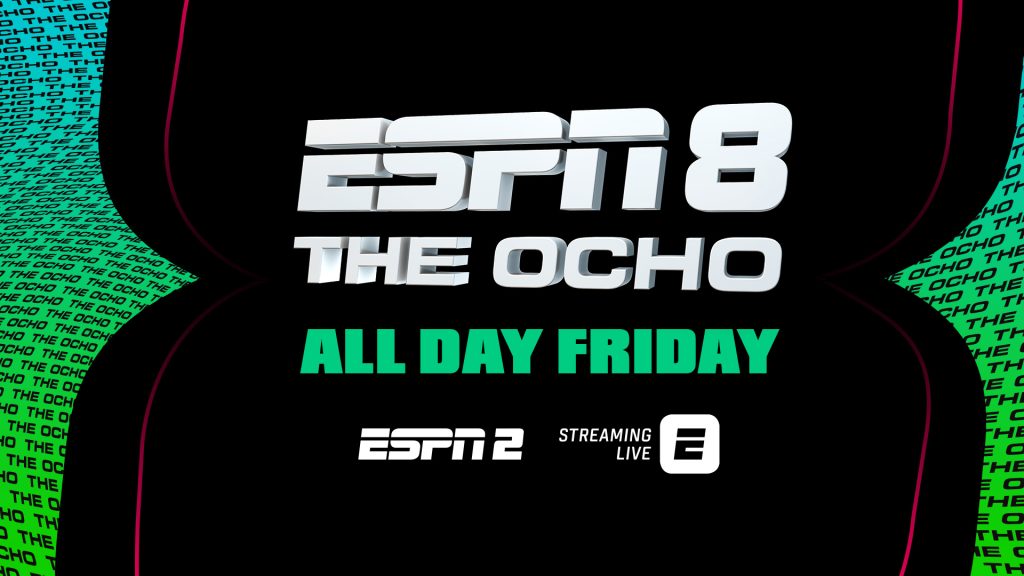 ESPN announced that ESPN8: The Ocho takes over ESPN2 for 24 hours on Friday, August 5, 2022, becoming the No. 1 destination for "seldom seen sports".  For the 6th year, ESPN brings the fictitious ESPN8: The Ocho, from the hit movie "Dodgeball", to life for 24 hours only.  The latest in the evolution of The Ocho includes 14.5 hours of live events from two venues in Rock Hill, SC – The Rock Hill Sports & Event Center and Manchester Meadows.
Beginning at 12:00 a.m. on Friday, August 5, ESPN2 will transform into ESPN 8: The Ocho, and broadcasting 24 hours of unique sports including cornhole, pickleball, axe-throwing, and, of course, dodgeball.
Tune in to ESPN2 (MIDTEL Channels 851/251/36) for all of the action.
Visit ESPN for more information.
Friday, August 5, 2022 ESPN8: The Ocho Television Schedule
| | | | | |
| --- | --- | --- | --- | --- |
| Date | Time (ET) | Event | | Network |
| Fri, Aug 5 | Midnight | 2022 Corgi Races at Emerald Downs | | ESPN8 |
| | 12:30 a.m. | Evolution of Cliff Diving   | | ESPN8 |
| | 1 a.m. | The Story of Spikeball | | ESPN8 |
| | 1:30 a.m. | USA Pickleball National Championships | | ESPN8 |
| | 2 a.m. | Tiny Meeker's Baddest Bencher on the Planet | | ESPN8 |
| | 2:30 a.m. | 2021 Corunna Belt Sander Races | | ESPN8 |
| | 3 a.m. | 2022 Noblesville Bed Races | | ESPN8 |
| | 3:30 a.m. | Franklin Rock River Stone Skipping Competition | | ESPN8 |
| | 4 a.m. | 2021 AUDL Championship | | ESPN8 |
| | 4:30 a.m. | 2022 eSkootr Championship | | ESPN8 |
| | 5 a.m. | Excel Esports: All-Star Battle   | | ESPN8 |
| | 5:30 a.m. | 2021 World Air Hockey Championships | | ESPN8 |
| | 6 a.m. | 2022 World Table Hockey Championships | | ESPN8 |
| | 6:30 a.m. | 2022 New Swarm FlingGolf Classic | | ESPN8 |
| | 7 a.m. | Red Bull Paper Wings | | ESPN8 |
| | 7:30 a.m. | Teqball: World is Curved | | ESPN8 |
| | 8 a.m. | Turf Wars Kickball Invitational* | | ESPN8 |
| | 9 a.m. | World Axe Throwing League: The Commissioners Cup* | | ESPN8 |
| | 10 a.m. | AWA Wiffle Ball at The Ocho* | | ESPN8 |
| | 11 a.m. | 2022 BullShooter Invitational Shootout* | | ESPN8 |
| | Noon | US Quadball Invitational* | | ESPN8 |
| | | World Chase Tag London | | ESPN Deportes |
| | 1 p.m. | 2022 Pro Breaking Tour Invitational* | | ESPN8 |
| | | 2021 World Air Hockey Championships | | ESPN Deportes |
| | 1:30 p.m. | Teqball – "World is Curved" | | ESPN Deportes |
| | 2 p.m. | The Ocho Show* | | ESPN8 |
| | 3 p.m. | Pogopalooza Cup 2022* | | ESPN8 |
| | 4 p.m. | ACL SuperHole III Quarterfinals* | | ESPN8 |
| | 5 p.m. | OmegaBall Invitational* | | ESPN8 |
| | 6 p.m. | USA Dodgeball All-Star* Showcase | | ESPN8 |
| | 7 p.m. | Slippery Stairs at The Ocho* | | ESPN8 |
| | 8 p.m. | ACL SuperHole III Finals* | | ESPN8 |
| | 9 p.m. | US Air Guitar All-Star Air-off* | | ESPN8 |
| | 10:30 p.m. | World Chase Tag London | | ESPN8 |
| | 11:30 p.m. | Death Diving: Austin | | ESPN8 |
* Live Event
** Schedule Subject to Change