MIDTEL announces that Megan Becker and Claire Nardone have been selected as recipients of this year's the Empire State Chapter ITPA Independent Telephone Pioneer Association's Scholarship Award of $750.  MIDTEL has also matched the ITPA award with an additional $750 for both Megan and Claire.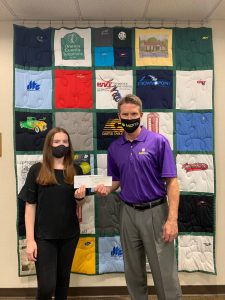 Megan is the daughter of MIDTEL President Jim Becker.  A recent graduate of Guilderland High School, Megan will be attending Clarkson University studying Engineering & Management.
Claire is the daughter of MIDTEL employee Rick Nardone. A 2019 Graduate of Shaker High School, Claire will be entering her Sophomore year at the University at Buffalo this Fall, studying Psychology.
Annually the Empire State ITPA awards educational scholarships to high school seniors and college students.  Children of Empire State ITPA members are eligible to apply.  Students were required to write a brief essay on one of the two topics below:
What educational experience have you had that had the greatest impact on you and why?
With Broadband services increasing in rural New York with fiber to the home, how do you see this impacting life in your community and your future career?
Megan and Claire were presented their awards in front of an Amish quilt commissioned by the ITPA and showcased at the INOC Datacenter by MIDTEL and INOC President Jim Becker on July 1, 2020.
Congratulations to Megan and Claire and their families.  Best of luck this fall!