After teaching school for over 15 years as a 4th Grade teacher in Duanesburg, at night, Marge Becker still found herself working part-time for the telephone company doing work orders and other administrative items that needed attention. Marge finally joined the company full-time in 1973.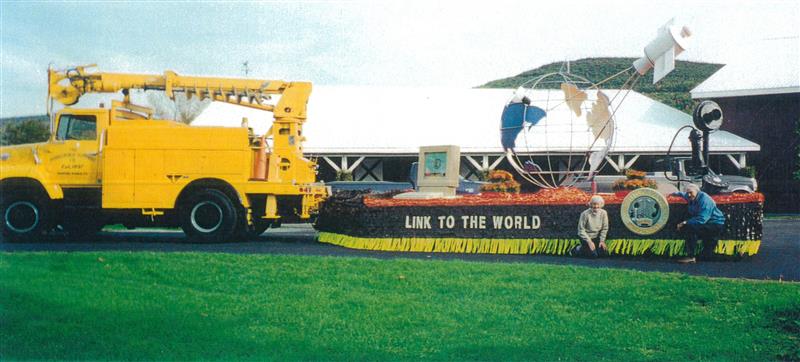 E. Scott Rose handed off the presidency of the company to Randall F Becker in 1972 after a long career. He lived for 97 years and was still climbing telephone poles until he was 75 and drove his car until he was 90. He didn't believe in being confined in an office and he made that very clear through his never-ending love of working in the outside plant.
In Randy's first year of being President and General Manager of the company he acquired the Summit Telephone Exchange, which was known for being the last telephone company operated by the magneto switchboard in New York.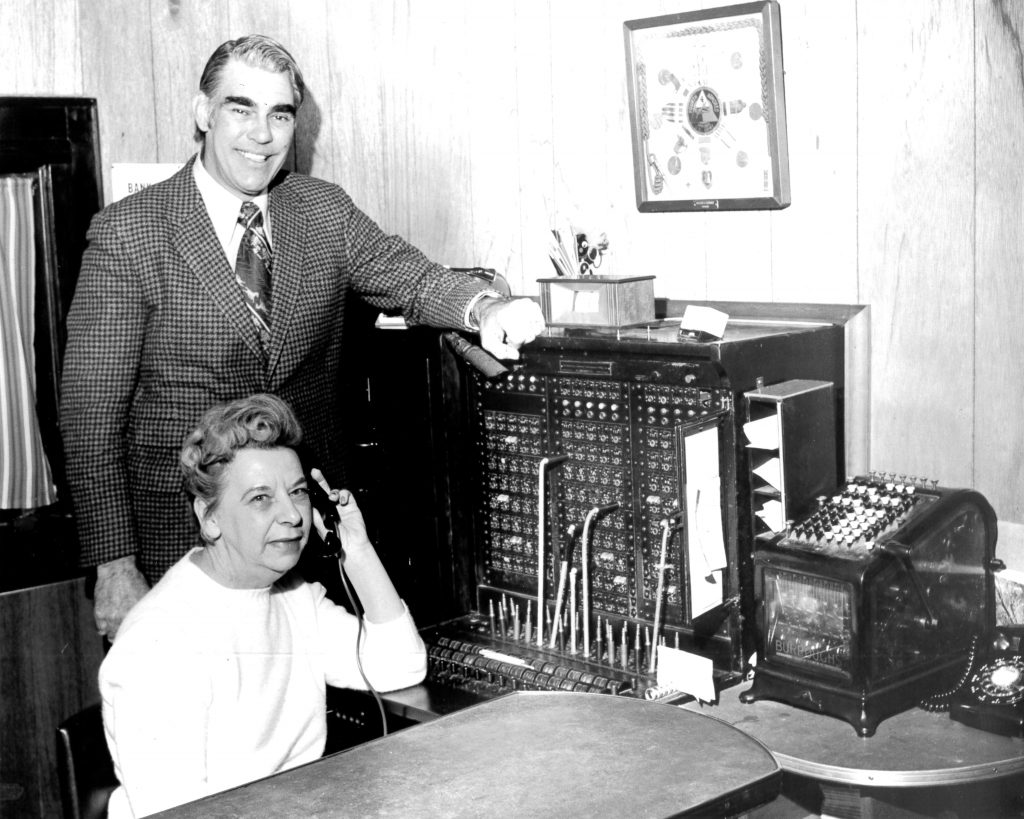 Randall F. Becker, MTC manager, looks on as Mrs. Joseph Stewart completes
the last call on the manually-operated magneto switchboard of the
Summit Exchange in 1973. The Summit Telephone Company was
operated by Mr. and Mrs. Stewart until its merger with MTC in 1972.
In 1974 a new building was constructed to house Middleburgh Telephone's Electronic Switching Center (E.S.C.).  That building is still in use today.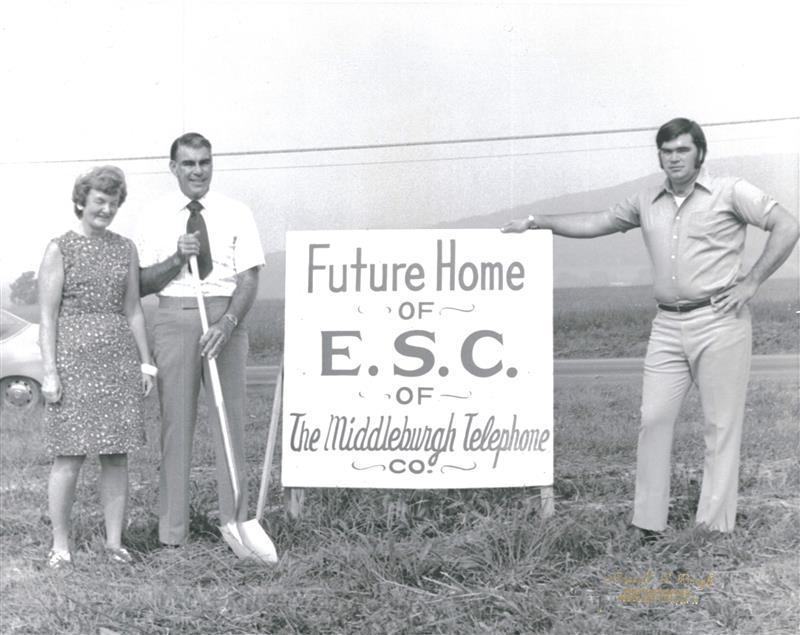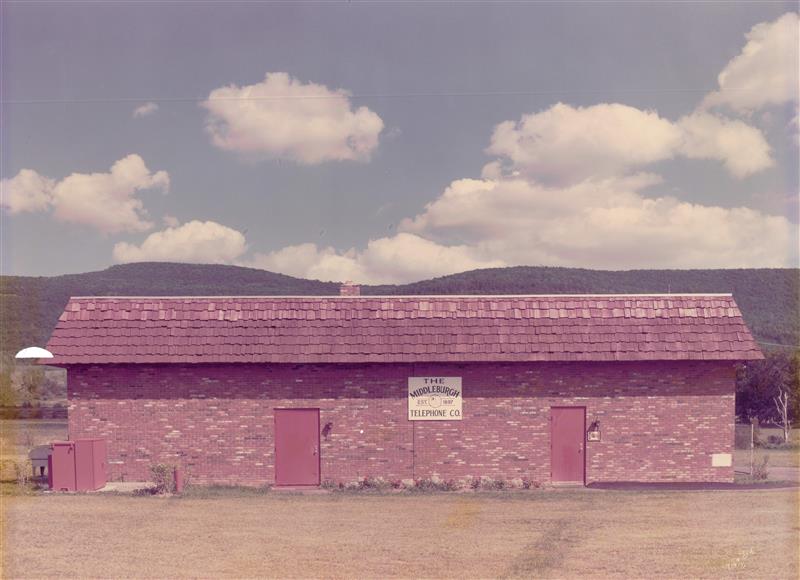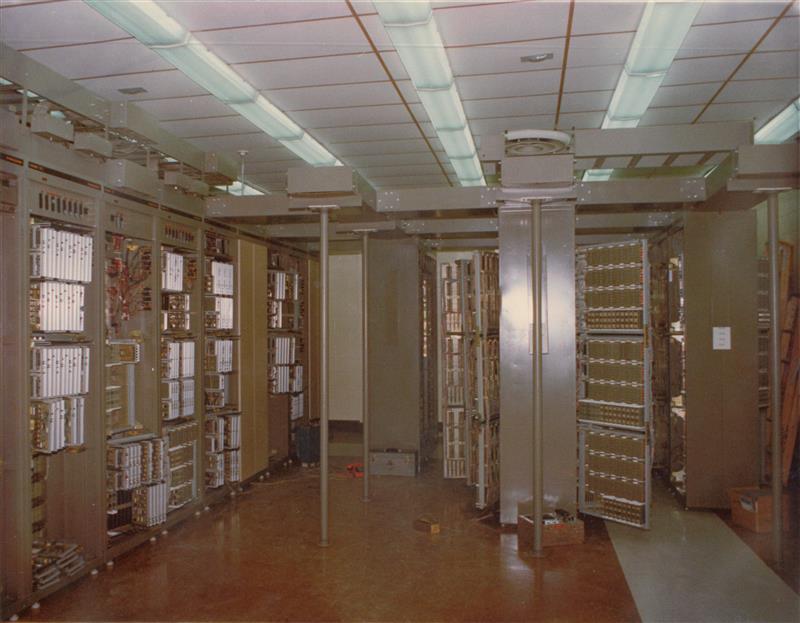 The new Electronic Switching Center
A notable change in the industry during Randy's leadership was the breakup of The Bell System, otherwise known as AT&T, in 1984. Anti-trust laws broke up the telephone monopoly into 7 regional holding companies. This would have no direct impact on Middleburgh Telephone, but later down the road, long-distance services and policies would be changed.
In 1985 the company started installing fiber optic cable, placing 70 miles of fiber optic cables between its Central Office in Middleburgh and ten remote line switches in the rural areas it served. The wire inside these cables–individual fiber optic glass wires sheathed inside the cable–are not much larger than individual human hair. Unlike wire cable, fiber optic cable is not affected by moisture from snow and rain, electricity, magnetic fields or lightning.
Between 1986 and 1990, Middleburgh Telephone would make another technological transition by implementing a fully digital telephone switch, replacing dial service.  With this type of telephone service, features such as speed dialing, call forwarding, call waiting, and three-way calling all became possible.
The Middleburgh Telephone Company installed a new service building in West Fulton in 1992 to provide its customers with improved service.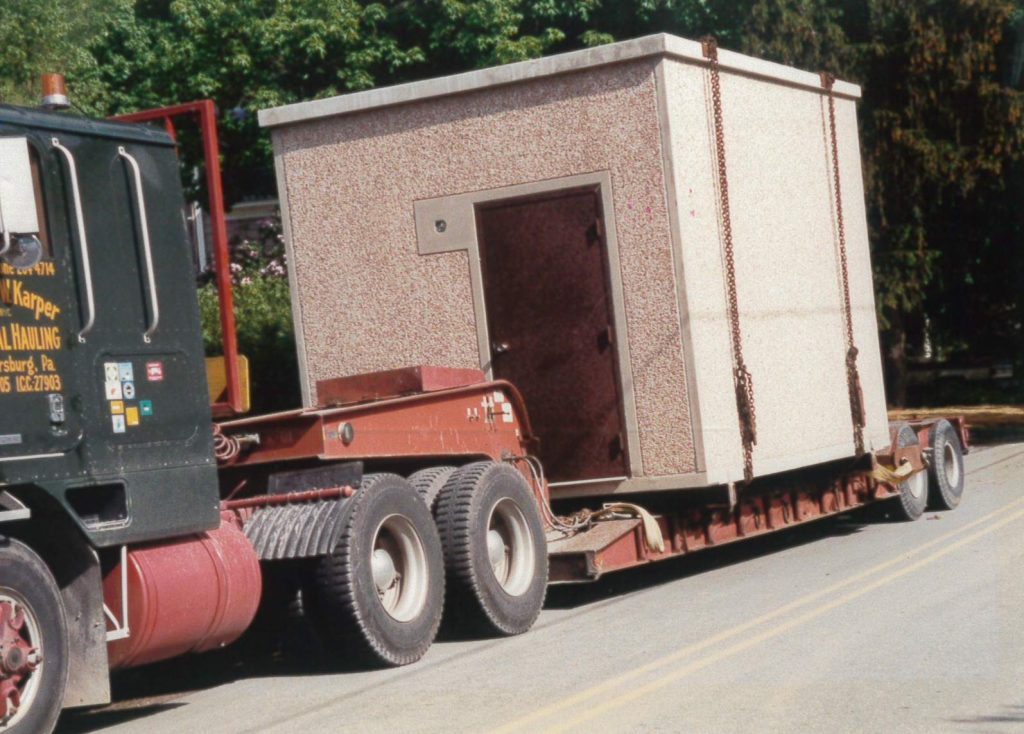 New service building being installed in West Fulton
In 1994 Middleburgh Telephone diversified by creating and building out a cable TV network, providing video services to some of its rural areas that could only receive one TV station. MIDTEL CABLE TV was formed as a subsidiary that provides state-of-the-art broadband cable television service to the area. Through the use of fiber and coaxial cable, MIDTEL CABLE TV initially provided over 65 channels and FM stereo reception to over 2000 homes.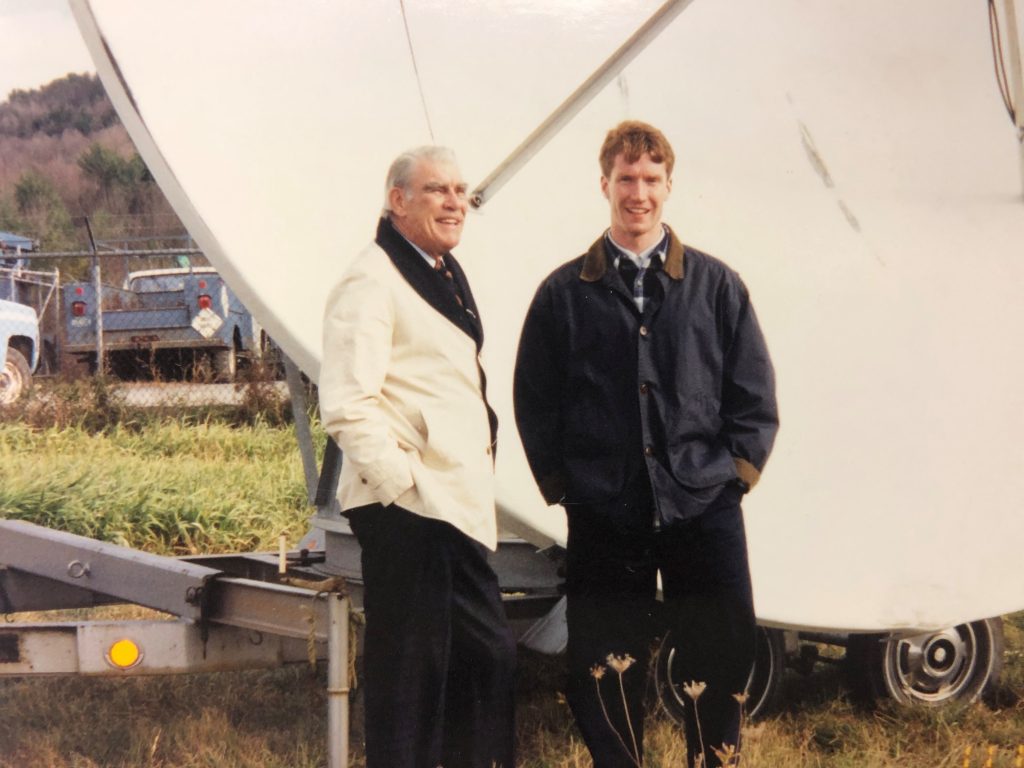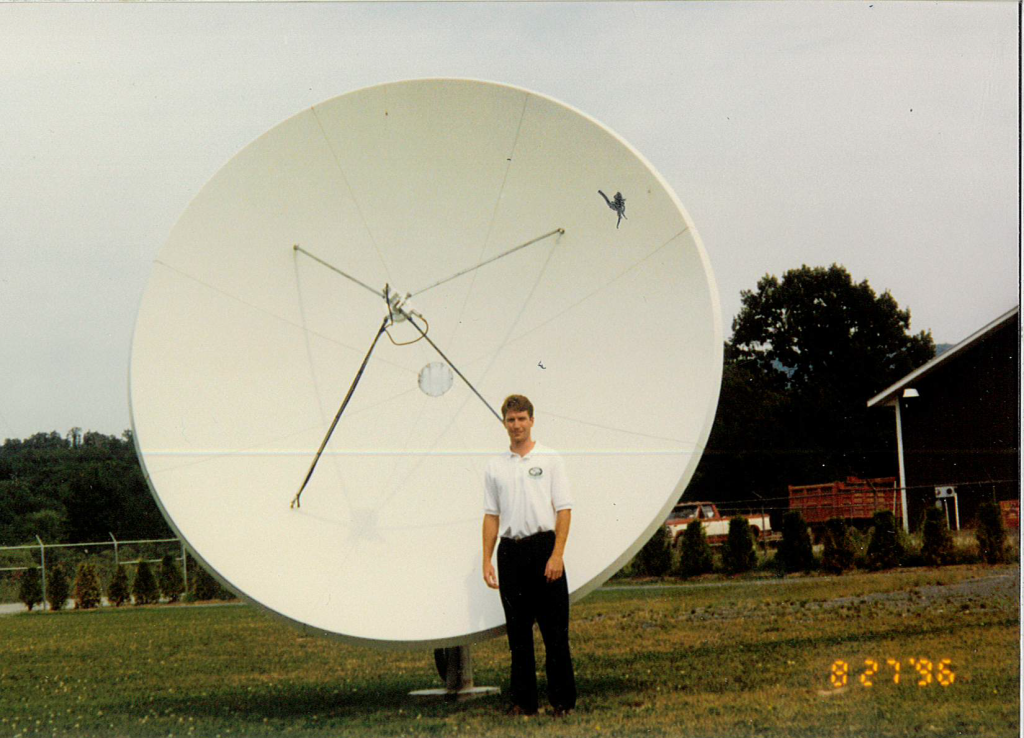 Randy Becker and grandson, Jim Becker stand in front of a satellite dish
at the new MIDTEL CABLE TV headend.
In 1995, Middleburgh Telephone further diversified itself by forming its own long distance company, MTLD, short for Middleburgh Telephone Long Distance. MTLD was founded and built on the same principles the telephone company and its subsidiaries live by: customer service.  MTLD offered quality long distance, cellular, paging, toll free numbers, calling cards, tele-conferencing, and communications consulting throughout New York State.  MTLD is still in operation today.
In the early part of 1996, after the Federal Deregulation of Telecom, Middleburgh Telephone added local dial up Internet access for most of Schoharie County and parts of Albany County through its MIDTEL NET subsidiary. By connecting through a local telephone number, Internet subscribers had direct access to the entire world.
Adding these three services became a huge turning point for the company and would prove to be decisive in the company's growth by recognizing the demand of its customers and adapting to a new digital age.
Join us next month for more MIDTEL history!