Marjorie Silliman Rose, the daughter of Edmund Scott and Florence Pindar Rose, was born on August 10, 1922 into the telephone business – only no one knew it at the time.  Her father, E. Scott Rose, had grown up on a farm in Hobart, NY, where he and Marge's grandfather had strung a wire from the barn to the house so they could communicate with her grandmother. As other farmers around the area learned of their system, they asked the Roses to do the same for them and the Rose Telephone Company was born. Shortly after Marge's birth, the family sold their company in Hobart, and moved to Middleburgh, where her father went to work for the 25 year old Middleburgh Telephone Company for many years and would eventually become the company's president. E. Scott's family had pioneered the telephone industry for many years, making him well suited for the telephone business.
The 1920's and 1930's brought great expansion as The Middleburgh Telephone Company acquired numerous small telephone companies.  The Fulton Valley Telephone Company was acquired in 1922, followed by the Pierce and Peasely Rural Telephone Company a year later in 1923.  In 1926, the Oak Hill Telephone Company was acquired.
In 1932 The Schoharie Valley Telephone Company became a part of the larger Middleburgh Telephone Company.
The company's first president, Dr. Christopher Best, died in 1935 after faithfully guiding the telephone company for 38 years. Baird L. Elsbree took over as president at the time and was quickly followed by another local entrepreneur, Lewis Coons, who served as president for almost a year.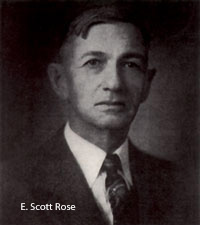 E. Scott Rose was elected president of The Middleburgh Telephone Company in 1936. Over the next 36 years, the company continued to grow and experienced many changes, but the growth did not come easy nor did the technological expansion.
In 1939, the company acquired the small, rural Coons Telephone System, owned by Mr. Coons, in Huntersland. This was one of the last so-called "farmer's line" systems in the area.  World War II in Europe and the Pacific diverted essential materials such as telephone switching equipment and wire to the massive nationwide war effort, and The Middleburgh Telephone Company had to "make do" with existing equipment as it willingly cooperated with that effort.
Join us next month for more MIDTEL history!